Day 99:
source
I worked the whole day, but it was awesome. In the morning we had some very amusing little customers and I basically played with them while the other girl was ringing their mom up. After that, we all found out that it was Cow Appreciation Day at Chick-fil-A. Their deal is that if you dress up like a cow, you get you're whole meal for free. Well, considering that we have to wear black to work, this was perfect! We took some of the sticker tape we have at the registers and put them all over our clothes and it worked! Even though I had pizza in the refrigerator, I went up there anyways and got a free meal. And let me tell you, that was the best sandwich I have ever received from Chick-fil-A.
Day 100: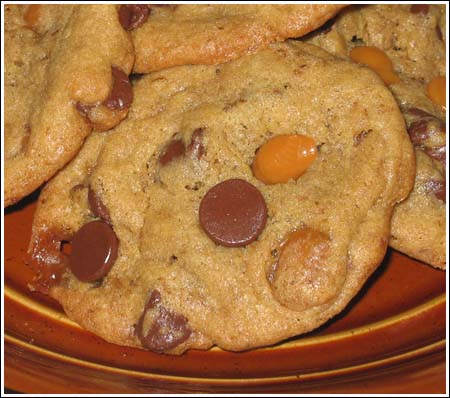 source
On Saturday, I was still feeling kind of sick so I didn't really feel like doing anything that night. Instead, I stopped by the store on my way home from work and got some supplies. With those supplies, I made the best cookies ever: caramel and chocolate chip cookies. They were so tasty! And they're very simple to make.
Day 101:
source
i'm eating these as i write this right now actually!
Yesterday, Mom was alone at home so she decided to drive up here and spend the day in Athens. We did a little shopping at Rack Room Shoes, Old Navy, and Barnes & Noble before we did some major damage at Sam's. I ended up spending more money than I would have liked, but it was well worth it. Now I have a ton of kiwis, strawberries, chocolate covered raisins, and macaroni and cheese. Hopefully, that trip will allow me to skip the grocery store for a couple of weeks.
Day 102:
source
this isn't the ring, but it kind of similar to it
The search is on. Sometime yesterday, I lost my ring that my mom gave me when I was 16. I cannot think of where it is and I don't know what I can do to find it. I guess today, I'm going to look through the entire apartment very thoroughly and then if I have to, I'll get the trash from yesterday and search through it. That will definitely come after the search and calling all of the places we went yesterday though. I know that it didn't fall off my hand so it has to be somewhere in this apartment! Wish me luck!
**UPDATE: I found my ring! It was in the pocket of the shorts I was wearing yesterday. I swear I looked there at least 5 times yesterday, but I guess I missed it!