Day 279:
I decided to be a nice friend and help Katie out with her work on Wednesday. We ended up driving all over the place, getting some delicious chocolate from a bakery and trying to avoid the rain (which was easy for me since she was the one that kept having to get out of the car :) ). I didn't take a picture that day though so I thought I would just use this one from Junior Prom!
Day 280: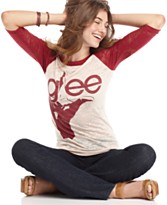 I didn't get this exact shirt, but I picked up a Glee shirt at work for under $5! The one I bought is a gray t-shirt that has WMHS written across the front of it. I never thought I would wear a shirt like that, but for that price and the fact that the show is amazing, I had to have it :)
Day 281:
This isn't the greatest picture, but the clouds were so pretty!
Day 282:
So, as you can see, I can't stay away from shopping! But, I got yet another awesome deal and bought a scarf just like this one from work for only $3. Who would turn down that deal?!
Day 283:
Happy Birthday Dad!! I hope you had a great one today :)
Day 284:
Technically, the day has started. Therefore, I'm going to use this picture I took a while ago! The snow is coming down so hard right now! It's been snowing for a couple of hours and we probably have over 4 inches. School was supposed to star tomorrow, but they canceled it so the semester is off to a great start :)